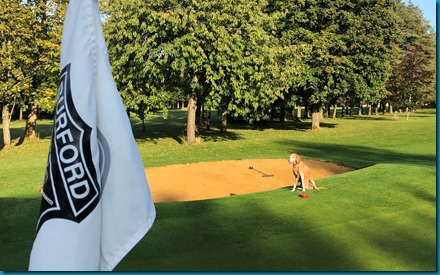 Welcome – Another catch up with our friends out west gave us the opportunity to try out another Cotswolds course, Burford. Their welcome to dogs was made clear with a water bowl placed right at the entrance to pro shop as we went into pay.
Water – There are no water hazards on the course or even little streamlets. 7th tee does have a water fountain, but not it is not working (it might be still shut off from COVID). But the 9th does have a traditional finish at the club house where you can stop in for a refill (or even more leisurely drink at the spacious outdoor patio by the bar).
Wildlife – SQUIRREL! The torture for the golfer are the copses of trees lining the narrow fairways that put the "thick" into "thicket". And the nightmare for some dogs will be the plethora of squirrels living in those trees and scampering across the fairway on a regular basis.
Walk – The Wiltshire Plain course lies on the one of the flattest areas we have played for some time making it a most leisurely stroll though you could still get some lively views of hills rising in the distance.
Wind Down – Another fuel-up instead of wind-down, this time at the Maytime Inn. Due to the logistics of the day, we stopped in for a pre-round lunch rather than a post-round dinner. We enjoyed one of the most delicious golf day meals in a long time. The Maytime not only defines gastro-pub with a truly gourmet menu, but it also has a splendid outdoor garden with more views of the surrounding hillsides (unfortunately, they weren't serving food outside despite the sunny day). The major problem for Grace was that there wasn't more scraps or leftovers for her to enjoy as we polished everything off handily.