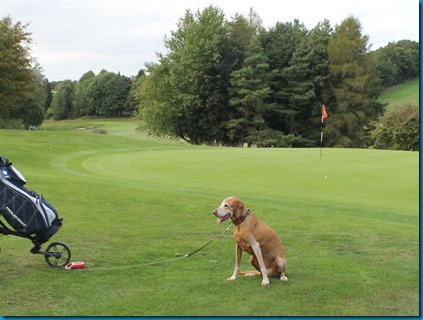 Welcome – Venturing a bit further afield with a personal invitation to Cotswold Hills from a longtime friend and member there, Andrew Pickup. He was intrigued to see Grace's joy and energy on the course which convinced him to give dog golfing a go with his own cheery Labrador Bailey.
Water – No water hazards to sip along the course, but it does circle back to the clubhouse at the 9th if you need a refill (and a welcoming water bowl sit out on the clubhouse deck).
Walk – Top rate topology for the course walk which has a gently undulation about it providing just enough elevation for some lovely vistas while never feeling that you are summitting the Matterhorn to get to the next hole.
Wildlife – SQUIRREL! While the rough was low, the course is punctuated by plenty of copses which seem to attack as many of our shots as it did squirrels.
Wind Down – We enjoyed a refreshing brew on the clubhouse deck and then retired to The Beehive down the road for a more robust meal. Very tasty food, happy to have Grace and spacious enough dining area that she could settle comfortably into her bed.