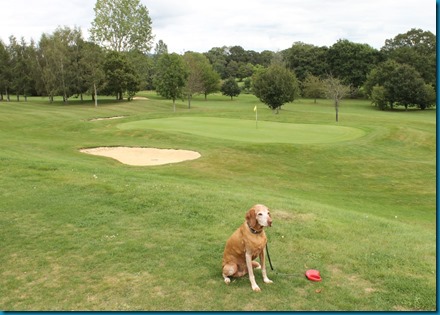 Welcome – Chiddingfold is smart casual, fun where a well-behaved dog fits in just perfectly. The grounds are handsome and smart, but not overly fussy. The vibe is cheery and good-natured and everyone we bumped into had a kind word for Grace.
Walk – The course seduces you with a collection of gentle undulations with copious par 3 holes. Until right at the end when you are finally weary, and then it hits you with the first par 5 on hole 17 with a mountainous climb to get to the tee (but at least then you are just a final par 3 from being at the 19th hole for refreshment). The course has a higgledy-piggledy layout with fairways and pathways crossing over one another, but at least the course is superbly well marked. "Next Tee ->" signs after every hole and huge hole numbers on the teeing green so you can spot them from a distance.
Water – A half dozen reasonably sized water hazards as well as a modest stream crossing 9 and 11 which Grace seemed to prefer to the fresh water we packed and despite the fact that it was a bit of stretch for her reaching the water level from the elevated ground for a tasty gulp.
Wildlife – A few scampering squirrels is all.
Wind Down – The "Dirty Sixth" at the Winterton Arms might just be the best wind down pub we have come across in all our dog golfing. Perfect for us with its dog-friendliness. In fact, its booking system allows you to select for "dog friendly" tables when booking (which is helpful because many pubs now have dining sections where dogs are not allowed and we often have to call for our reservations to clarify that we have Grace in tow). Also, one of the first orders of business by the server was to offer Grace up a tasty dog biscuit. We found Winterton through the (semi-)trusty DoggiePubs.org.uk. I say "semi" because DoggiePubs isn't really curating its crowdsourced information. I am increasingly finding that the majority of links and establishments are out-of-date (website missing, places closed, telephone numbers not working). But given the glowing review for Winterton and its proximity, I chased down its new website a booked a table. I'm glad I did. I was super intrigued by its description of being "an Asian smokehouse, the love child of a rebellious barbeque joint and offbeat oriental supermarket." The mashup of something as homespun basic as BBQ with the air of the exotic raised my expectations. And Winteron simply exceed them. As someone who has sought out top American BBQ joints in the Southern USA, their Bao Bun Brisket nonetheless ranked right up their at the top of my favourite sandwiches. I also appreciate the attention aesthetic details that the establishment has taken as well as some great investments in the customer experience like a dramatic canopy enclosing the outdoor seating and an inviting play area to occupy kids.