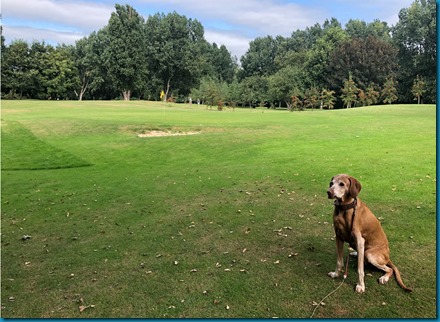 Welcome – This is my first course review of a course we didn't actually play. We visited it, but couldn't actually play it. Because it is such a small and uniform course, I felt I could write something useful about it just after a basic survey about it. Also, the welcome was by far the worst I have ever gotten at a golf course so I thought it would be good to document that and warn prospective visitors. Camping on the Portland peninsula for a bank holiday break, we made special plans to play a fun round here and introduce our friend's dog Pepper (see photo at bottom) to hitting the course. The course has no website of its own and the listed telephone number is just a number for the Weymouth council who own the park and the course. The information said that it closed at 5:00 pm so we rocked up at 3:30 pm (it's a short 9 hole, par 3). But when we got there, an older gent who appeared to be the manager said that they were "closing early due to planned maintenance at 4 pm". "Planned maintenance" in the evening of a bank holiday weekend? Didn't make sense, but I enquired further, "Could we just play and avoid where you are doing maintenance?" The gentleman responded, "No, it's on the entire course. We are turning all the sprinkler systems on." Well, looking at the decrepit course which seems to not have grounds maintenance as a priority that story not stretched credulity. So I decided to return at 4:30 pm to check out this alleged "maintenance". The facility was shut tight and not a person in sight. No sprinkler engineer van, no sprinklers going, no manager to provide support. The lying jobs-worth just decided he wanted to cut out early for a weekend barbeque and screw the customers whose afternoon has been ruined. Curiously, such unreliability seems to be endemic at the Lodmor Park complex as the parking signs admonish, "Please check that your attraction is open before paying for entry."
Walk – A leisurely, holiday-esque stoll on a diminutive course on entirely flat coastal land.
Water – No hazards or natural sources, but you are never far from the entry (which has a spigot). And the course is so short (and shaded) that you could likely make it around in under an hour not needing a water stop at all.
Wildlife – Didn't see any other critters walking around the perimeter of the course. Maybe scared off by squeals of delighted children.
Wind Down – Another motivation to write this review is to highlight this outstandingly dog friendly to stop just down the road for a post round drink – The Lookout Cafe. We DID get to enjoy this establishment. Water bowls, dog biscuits, and dogs everywhere (see below). Set on a bluff having a dramatic vista of the Weymouth seaside from Portand to Swanage is an expansive lawn where dogs are allowed to run around off lead. The café has delightful food. I wholeheartedly recommend the local crab sandwiches, but the "American fluffy pancakes" are perhaps a bit oversold as they fluffier than most British versions ( but not quite to American standards, not to mention that they served them with distinctively un-America Golden Syrup and not maple syrup).