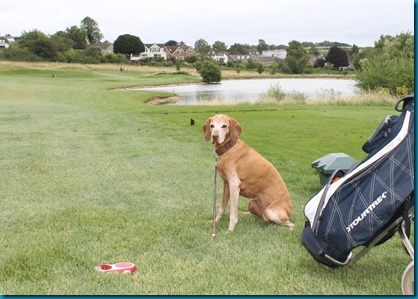 Welcome – Lots of dog walking trails surrounding and even crossing some of the course meant dogs are a familiar sight on and around the course.
Walk – A gently undulating froth of lumps providing so many caroms that sometimes it seemed like we were playing pinball golf. Even the good shots would end up in random places depending on what slopes they hit. But none of the inclines had any severe gradients so it was a quite easy walk.
Water – Lots of big water hazards, but mostly inaccessible due to thick reeds surrounding them, deep drops into them, or liners providing to dangerously slippy sides. The 9th hole does return to the clubhouse as an opportunity to refill water bottles.
Wildlife – Plentiful waterfowl enjoying the water hazards including a resident heron.
Wind Down – A charming "19th Hole" provides basic fare while overlooking the 18th green (as typical) as with a waterside vista more appealing to the diners than the players.