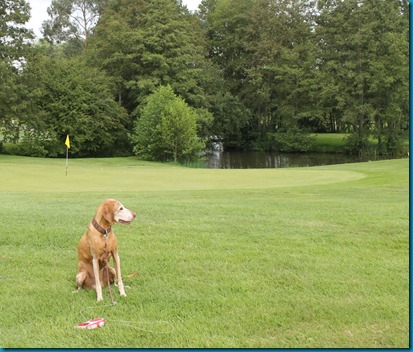 Welcome – Blacknest was very happy to have Grace along (as long as kept on a lead).
Walk – Another relaxing flat course to provide a leisurely stroll which 13 year old Grace is increasingly happy to see.
Water – Blacknest seemed like the Venice of English golf courses. After the first hole every single hole of the front 9 had a water hazard to cross or flanking ominously from the side. Except for the 7th hole …which had TWO hazards to cross approaching the par 3 green. And that's not counting the myriad of drainage ditches crisscrossing the course (see course map at bottom). Also, Hole 9 has a well outfitted halfway hut with water faucets. So no problem with thirst.
Wildlife – Lots of water means lots of waterfowl – ducks, geese, coots. Pretty much the full British lake menagerie.
Wind Down – Actually, not a wind down nor warm up, but a wait out. The front 9 was moving as slow as molasses due to an earlier society event, a newbie foursome bumbling along and lots of two-balls. We decided to ditch the playing and have a halfway hiatus (hole 9 doesn't finish that close to the clubhouse so you have to walk the length of the par 5 Hole 18.). We had a delightful and very reasonably priced lunch at The Nest Café.