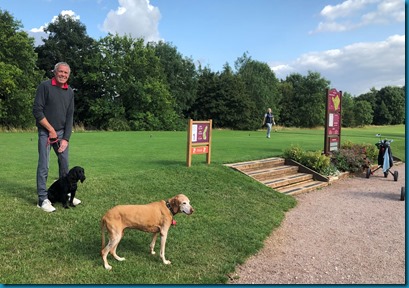 Welcome – We have wanted to play Wrag Barn since we first started golfing with Rusty and Grace. At one of our first outings, we bumped into another dog golfer admiring them and he said, "You should go to Wrag Barn. They are very dog friendly." Then, talking to Adam Ruck, he cited Wrag Barn as one of his favourite courses to bring his dog. And, distinctively, the course itself welcomes dogs right on its home page: "Visitors and non-members are welcome at Wrag Barn Golf Club along with well behaved dogs." A main reason why I set up DogGolf.info is that clubs very rarely indicate on their web page even when they do welcome dogs (making Google searching for a canine-friendly course difficult). And our arrival was no disappointment as Grace was enthusiastically greeted by novice (puppy) canine member, Zack (see photo above) and his kind person. Also, a number of walking paths cross the course so we encountered a number of dog-walkers during the afternoon.
Walk – Nestled on the Wiltshire plateau, Wrag Barn is one of the flattest courses we have ever played. Even the greens were mostly level throughout which made the putting as enjoyable as the leisurely walk around the course.
Water – Water, water everywhere. More water hazards than we had played in a while. Filled by the recent downpours crossing the area which also had the several gullies flowing briskly (with fresh water Grace had to sample). Most of the bunkers were little mini lakes (fortunately, "GUR"). Normally, letting a dog into a bunker is verboten, but given the status we let Grace have play in the water (she is a bit of a water hound) and it did turn into her own personal "pub-dle crawl" as she eagerly sampled every mud puddle that she ventured into And turned her nose up at the fresh water we brought with us per usual (I guess she preferred to sample and compare the sandy bouquets wreaking of the disappointment and despair from golfers caught there).
Wildlife – A veritable countryside menagerie – cows in a field next to the 4th fairway (who took interest in Grace walking by), squirrels, rabbits, a broad array birds including a number of terns (I didn't think we were that close to the ocean).
Wind Down – Actually, this was more of a "Warm Up" since our late tee time meant that we opted for a pre-round Sunday lunch at the Radnor Arms. It was a charming place with a delightful beer garden out back where Grace could relax on the grass. They offered up tasty dog treats at the bar. Unfortunately, the people food was a bit of a let-down. Pub-grub dressed up as gastro cuisine. The ribs were okay, the chunky chips and sweet potato fries tasty, but the lemon meringue pie was about the worst version I had ever tried (the lemon bit felt like lemon-flavoured applesauce in consistency and the meringue was too chemical tasting). Still, Lori's 2 glasses of Primitivo went down well and must have helped as she then played her best round of the summer.