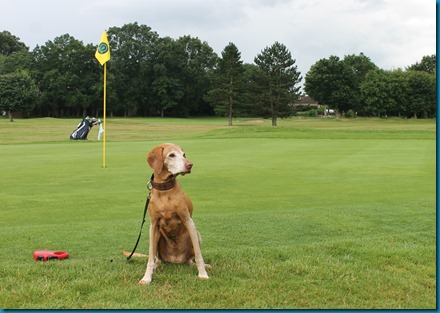 Welcome – Many of the Coombe Wood members we passed came up and admired Grace warmly. One member related how another member regularly brought their dog on their course (and how the dog would get all alert when its owner was going to tee off, look like he wanted to chase the drive, but then see how far it went and turn away nonchalantly with a look that said, 'nah, I didn't want to chase it really.'). Still, the clubhouse manager did come out to and say, at first, that dogs weren't allowed. When we noted that we had called to confirm, he clarifies that they are allowed but a bit later in the day, but he said it would be okay because the course was pretty empty when we were there because…
Water – What Coombe Wood lacked in water hazards on the day was more than compensated by the periodic downpours that passed through the area. Fortunately, we were able to huddle under various shelters through the round (including a well timed 13th hole refreshment at the clubhouse when the biggest shower of the day hit). And fortunately, Grace had puddles on over hole to sample through the afternoon,
Walk – Finally, a nice (mostly) flat course on the Surrey plain (we had just returned from a golf trip to the Azores which has some lovely courses, but they are carved into the side of a mountain). Even the greens were pretty tabletop reducing the putting frustration we had felt coping with the undulating holes of the Azores and how home club, Temple.
Wildlife – A couple of urban squirrels scampering past dodging the rain.
Wind Down – Wych Elm pub is just down the road and recommended on the Doggie Pubs website. It is a charming venue with an extra charming welcome to dogs. When we arrived with Grace, they seemed more focused on Grace than us asking whether we would like dog biscuits or a water bowl. When they sat us at our table, they immediately brought the water bowl (Grace got her drink before we even order ours…which is the way it should be in her eyes). A few other dogs were there so it scores super high on dog friendliness. Unfortunately, the food didn't score quite as high. Good for "pub fare", but not as good as the trendy dishes and descriptions implied. They did "fancy" dishes in in a less than fancy manner. We would prefer less fancy dishes done in a fancy way. The chicken liver pate was bland and served on soggy "toast", the "flat" bread for the humous was some strange fluffy flat-ish bread (hint: toast some pita slides for the best humous starter). The mac and cheese balls were tasty. Still, worth the trip, if you don't get your hopes too high for the food and its trendy descriptions on the menu, for the sake of the exceptional service especially for the doggie companions.