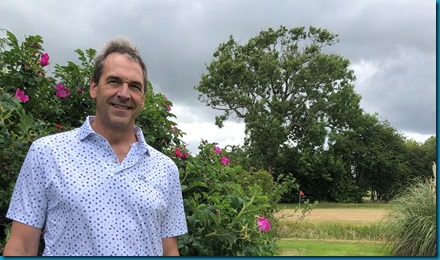 Welcome – We had a bit of a sad welcome to Four Marks, but it was nothing to do with the course itself. We had long planned a foray further south with the distance justified by seeing our fellow dog golfing friends, the Baileys. Initially intended as a reunion for Grace and Pepper, with at Grace's departure it pivoted into an anticipated soothing dose of doggie-ness from Pepper to help our grief. But when we arrived, the Bailey's told us that Pepper too had passed away just a few days ago from a sudden seizure. As a result, the session became a memorial round to our two beloved companions. I wore my Rhoback dog golf shirt (see above) as I had to step in as the face of Dog Golf UK for the day. The course is undergoing a bit of a refurb at the moment, but nonetheless, it is a bit of a casual aesthetic typical of such parkland courses. But always makes dog accompanying players a bit more relaxed about how fellow golfers feel about canine caddis.
Walk – The course is laid out in a tidy and fairly compact 9-hole course at only 1960 yards. Being flat it was a very easy step back onto the links after an extended time away after losing Grace (and my hip giving me a bit of gip). The exception to the flatness was the greens who seemed to all be perched on near vertical precipices. The course play, like our old girl Grace, was a bit rough, bumpy and motley.
Water – The course has small artificial ponds near holes 1, 4 and 7, but they (like many other parts of the course) were under repair so completed dried out (actually, without being spring or stream fed, most small artificial ponds of this type don't make for good drinking as they get quite stagnant even if they do have water). Still, with such a small course, you are never very far from the clubhouse if you need to retreat there to get a drink.
Wildlife – Lots of sheep and cows in the surrounding fields, but not too many critters crossing the fairways.
Wind Down – The clubhouse itself had a lovely dining area which, as you can see from the sign below, certainly welcomed dogs. But we opted for the intriguingly named "Castle of Comfort" pub just down the road. Several very friendly dogs in the bar area greeted us. One of the simplest menus with an assortment of nicely grilled meats (with some excellent cheesy chips). So plenty of opportunities for scraps for your fellow dining dogs. In fact, the proprietor is also a butcher so you can ask him for some extra bones or scraps that he might have out back.