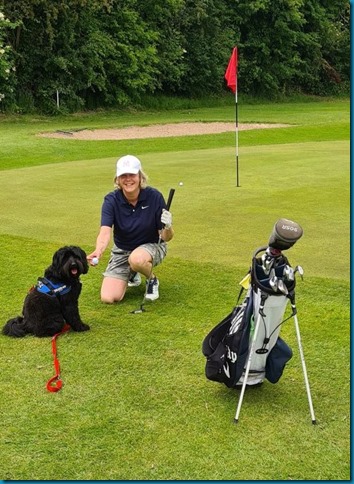 With the loss of Grace, we blessed to have another report from Bertie to keep the dog golf reconnaissance coming in
Having added a couple of days leave onto the platinum jubilee we thought we would entertain Bertie with another 9 holes. This time we put the doggolf.info website to test. We looked up the database of dog friendly clubs, selected Lancashire (a very small offering from Lancashire!) and the nearest to us was Poulton-le-Fylde golf club.
A quick email to confirm dogs were welcome got an instant response confirming they were and that members regularly brought their dogs with them.
It's a nine hole course with a large clubhouse and a very nice veranda with a view onto the course. On arrival we paid at the bar, £10 each, and on the veranda was a member with a dog!
It was busy and we had managed to get the last available tee time, there were lots of people around the first tee. Poulton-le-Fylde golf club has the tag line "the friendliest golf club on the Fylde coast" and this was certainly true. Everyone wanted to be introduced to Bertie so there was a crowd when we teed off. Thankfully they both went down the middle!
It's also a parklands course with a very relaxed atmosphere.
We now have a better understanding of how we control Bertie, we have bought a lead we can tie to posts when putting and driving, we have also developed an understanding of who should hold the lead and when. Bertie seems to be getting used to golf as well, he used to manically chase a ball and i had set aside an old ball for him but he never once chased a ball today.