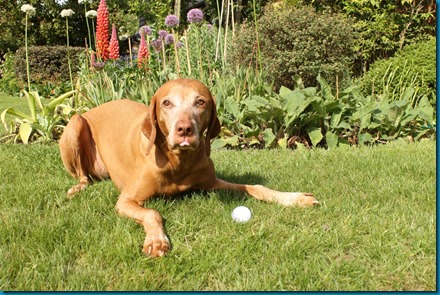 Today DogGolf says a very sad farewell to its biggest inspiration, its premiere pioneer, its world record-holding practitioner, the literal face of DogGolf – Grace. Her final round was our visit to Cranleigh which notched up her world-leading 86 courses walked.
When we had to say goodbye to Rusty a bit over a year ago, her alter ego Grace kept the vizsla spirit of boundless enthusiasm and affection alive in our home. In recent weeks, Grace's leg (which had always been a bit wonky) deteriorated from suspected tumors that had slowly riddled her body and she could barely walk on it. Today, she joined Rusty for an eternal romp together.
Grace was the face of www.DogGolfUK.com and one of its most illustrious exemplars. She holds the world record for the most golf course traversed by a dog (the last one being Cranleigh on 26th March). She astounded fellow players with her uncanny ability to sniff out your stray ball in the rough (and got a bit disappointed in the improvement in Lori's and my games which led to fewer opportunities to play this side game for treats). When we posted notice of her departure on Facebook, one of our golfing friends commented, "I'd heard about her golf ball finding ability and seeing it in action was just remarkable."
Grace was the most steadfast and poised dog we have ever known. She would be unflappable in the face of over-enthusiastic children, as well as both annoying puppies and aggressive dogs (she was always little Rusty's vigilant defender).
She did live her best life. Cuddling with Lori in the bed and couch in the morning, walking the Buckinghamshire countryside (and golf courses), getting the best morsels of bonus food, and being by our side.