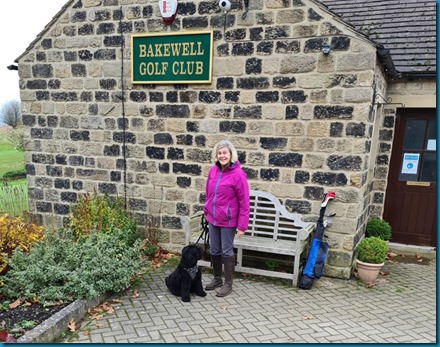 While I have been limited in getting out on the (UK) courses, a few dog-loving readers have been more ambitious and have shared some guest posts reviewing more courses for DogGolf.info! First up is Steve Brown (and "Mrs. B") with their canine caddy, Bertie. They play a number of course in the north of England (which are great to hear about since it would be a long way for us to go and that region is relative less represented in dog golfing):
To begin with we are novice golfers, don't even have a handicap, we are also relatively new dog owners with Bertie the Tibetan Terrier not quite two when we visited Bakewell. It was my third visit to a golf course and Mrs B and Bertie's first.
We were on holiday and found the dog golf website which really encouraged us to take Bertie with us.
We emailed the club secretary before booking. She was excellent and a real credit to all those volunteers who keep local clubs alive. She encouraged us to play but did say they didn't normally allow dogs but come back to her if that was a problem. We did, telling her the tee time we wanted no one else was booked in and it was late in the day. We understood that the dog would be on the lead and kept of greens and bunkers. We offered to contribute for Bertie's green fees!
Having got the go ahead we booked a 2pm tee time. It's a small club with a clubhouse with 9 holes with two different tees for each hole. We met several club members on the round and no one questioned Bertie's presence and all were very accommodating and friendly.
The course is high on the hillside offering fantastic views over Bakewell. It is steep in parts and it's a good workout. Tee shots are sometimes over the previous greens and one over a bridleway and another over a small country lane.
We all had a great time and you do need to make accommodations for having a dog, swapping the lead over etc, however we were last out so there was no pressure from players behind us.
My takeaways from this first attempt at dog golf are:
Plan how you intend to play with the dog ie who will do what, do not just set off.
Pick a quiet time of day.
Engage the club you want to play at, recognise they might have concerns, leave your contact details so they have some confidence if something went wrong.
We would definitely play Bakewell again, it's a great little course which is challenging. The secretary was brilliant. It has encouraged us to take Bertie out with us again.
Most of all Bertie led under the table in the pub that night, result!!