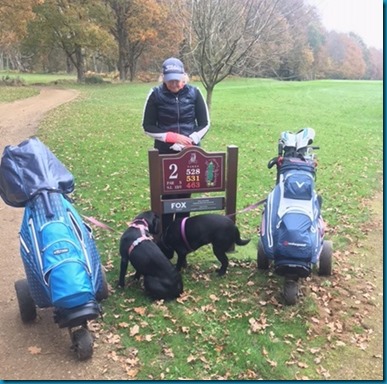 Another kind reader and keen dog golfer is Terry Aston who shared their experience at Redlibbets. Redlibbets is one of several dog-friendly courses that he introduced me to and I have added to the database. His fairway adventures are shared with not one, but two black labs – Winnie and Millie. Millie is herself a golf connoisseur of some distinction having visited 65 courses in her career putting her right up there for lifetime bests with Grace, Rusty and very few others. They we also accompanied by his wife, Jenny. I find it a curious that yesterday's guest, today's as well as Lori and myself are husband-wife teams. I wonder if playing with dogs is relatively more popular with those golfers who treat the sport as a family affair? Here is Terry's report:
Yesterday, Nov 16, Jenny (my wife), Winnie and Millie – our 2 black labs – played at Redlibbets, Kent.
We were made to feel very welcome and one member went through every hole telling us what to expect, we were nearly late for our tee time. Teeing off the first was a slight dogleg but fairly level and was a gentle introduction to the course. All the fairways were pristine and the greens in excellent condition. The whole course was superb and there was a good variety of holes. The course was set out over 2 sides of a valley with a couple of the fairways running along the bottom of the valley. For the time of year we were surprised at how good a condition the course was in. The 2 dogs really enjoyed their walk which was a fairly easy walk with a couple of steep climbs. We would not hesitate to return if in the area. The bar was open for food but we didn't stay. All in all, a successful day.