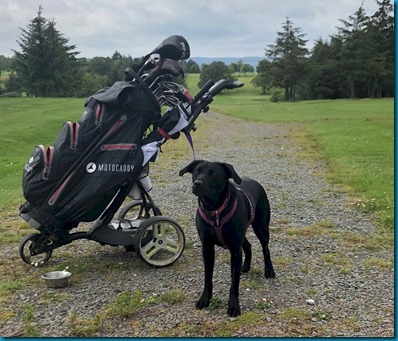 DogGolf.info is proud to announce the induction of Millie into the Dog Golf Hall of Fame. Millie has distinguished herself with an extensive golfing career of over 200 rounds on over 70 courses. Her golfing person, Terry, recently shared a post about one of her latest outings. In a very special scoop, Millie has shared her own personal perspectives of a dog's life on the fairways:
Millie – A life as a golf dog
Well, it all started when I was about 6 months old. My owners, Terry and Jenny, were keen golfers but always left me with their daughter whenever they went to play. On this occasion Terry decided that I was old enough to come along and so began my golfing experience.
The first course I visited was Thorpeness. I had to wear my harness which was attached to the golf trolley by a lead. I soon learned not to pull as the golf trolley would topple over! I very quickly learned to sit quietly whilst shots were played and to wait patiently whilst visits to the green were made.
Thorpeness was very quickly followed by a number of visits to other local courses that allowed dogs – Dunston Hall, Diss, Bungay, Brancaster, Hunstanton, Great Yarmouth to name but a few.
My first golf holiday was to East Sussex visiting Cooden Beach, Crowborough, Mid Sussex, Royal Ashdown, Lewes, Seaford, Seaford Head and Littlehampton, Since then we have visited Shropshire, Northumberland, Scotland and Kent, each area more than once. I have clocked up over 200 rounds of golf on about 70 different courses.
Last year Winnie arrived to join me on the course. She very quickly learned the ropes and its great to have the company on a round together. We love the fresh air, the walk and just being with our owners – I wish they would let me off the lead to chase that squirell!
Millie is 6 and is currently passing on her caddying expertise to fellow working strain black Labrador, Winnie (1 year old).