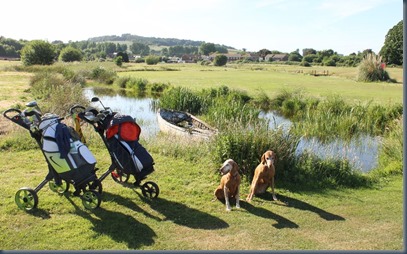 Westward ho! First the east coast of England, and now road trip to the west. With the help of the handy Dog Golf Course Map, we plotted a golfing holiday in Cornwall (which with the Home Counties and Scotland is one of the areas with the most dog-friendly courses). But the west country is a bit further from us so we decided to break up the journey with a stop en route at Oak Meadow golf course (formerly "Starcross" under which name the website still exists). It was a perfect pit stop about 2.5 hours into a 4 hour drive. A little break from driving and good warm-up for weekend of dog golfing.
Travel Tip – If you are renting a car for your dog golf holiday, most rental agencies prohibit you carrying pets in them (Rusty and Grace had to travel in an accompanying friend's car) so you might need to search for a special pet friendly car rental.
Welcome – First the course was a little tricky to locate. The postcode (EX6 8QG) and street address ("9 New Road") don't get you there using the sat nav. Go to New Road and then carry on about a half mile and it is on your right. Google Maps calls it an "Unnamed Road", but for all intents and purposes it is the extension of "New Road".
When we did arrive, we were enthusiastically welcomed by a dog named "Bobby" who is the unofficial mascot underscoring its dog friendly (or "friendly dog") credentials.
Walk – One of the shortest courses with holes crossing over each other to squeeze 9 holes into a quite contained plot of land right next to the estuary.
Wildlife – Mostly seagulls squawking around.
Water – Water, water everywhere, but not a drop to drink. Being by the estuary, it's all mostly brackish. So off we go to the "water hole"…
Wind Down – According to Doggie Pubs, there was no real "local", so we ventured into nearby Exeter center to the 5 star reviewed The Fat Pig. It was 7 miles away but it is close to the motorways you will be re-joining whether you are going further south on the M5 or west on the A30. We had a superb meal (Lori had the pulled pork, I had the chunkiest tomato soup ever, and Rusty and Grace had their Nature's Menu evening meal). Plenty of fussing over them by the patron and hosts (who brought out a biscuit for each).