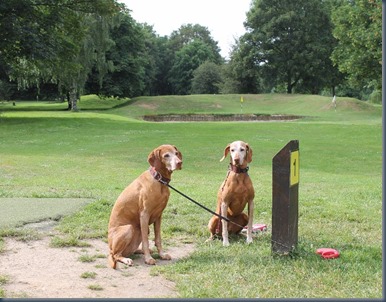 Welcome – You arrive at a little non-descript shack on the outskirts (the western outskirts I suspect) of town for the West Park Golf Centre. The attendant was very happy to have Rusty and Grace along with us. West Park is not your typical golf course or club (they do call it a "centre"). It is a classic "pitch and putt". Almost a bit like crazy golf ("mini-golf" for you northern Americans or "putt-putt" for you southern Americans) with a pitching iron added. Many might dismiss such a small scale operation, but there are many reasons to include West Park on your dog golfing circuit:
1. Relaxed – While the course is a bit untidy in places and is coupled with "foot golf" (which a few folks were playing while we were there), it does mean that there is an extremely relaxed vibe about the facility. This atmosphere can be very welcome especially to newer dog golfers or dog golfers who are particularly sensitive to the possibility of other golfers being put off by have the dogs on the course.
2. Shaded – On particularly bright days, you (and your canine caddy) might prefer a bit of shade in which case West Park has more of it than any course I have played. It is virtually blanketed with a dense canopy of foliage.
3. Challenging – All of the "fairways" are claustrophobically hemmed in on either side by thick rows of full foliage trees. A bonus "dividend" (glass half full) is that it makes these simple, little holes extremely challenging in their own right especially when it comes to any slice or draw (check out Hole 14 in the photo below which is a real needle-threading exercise).
4. Pitch/Chip Practice – When you watch a top pro golf tournament, you quickly realise that there are two ways to get a birdie – a heroic put over 5 feet from the hole, or a pitch/chip that lands within 5 feet of the hole. When the pros drive, they pretty much all drive the same distance and mostly land in the center of the fairway. In recent years, the big swinging tee shots have gone out of favour for many as the risk of inaccuracy (setting up the critical approach shot) isn't worth the extra few yards closer to the hole. There are plenty of places to (a) practice your driving at ranges, and (b) practice your putting on putting greens. But it is harder to find places to focus on your pitch and chip game.
5. Short – Sometimes a short walk is all you or your dog have the time or energy for. That was the case with us as we had played Southwold earlier in the afternoon and had to think about heading home.
6. Value – At £7.50, it is the cheapest "18" hole dog golfing course in the database.
Wildlife – Maybe because the course is pretty close to the centre of a good sized town (Chelmsford), we didn't see that much distracting wildlife scurrying about.
Walk – At a mere snip of 1403 yards in total for 18 holes (average of 78 yards with a longest hole of 102 yards and a shortest of 55 yards), it is a fraction of the length of conventional courses. If your dog (or you) has only the stamina or time for a short outing, this course is a great option.
Water – No water on the course, but given its small size and its windy layout, you are never more than a few minutes walk from the clubhouse if you needed a drink.
Wind Down – We concluded our dog golf weekend tour with a dinner at the White Hart just a mile down the road. The food was great (especially the Sunday roast with tons of gravy and huge Yorkshire puddings). Curiously, they had a rather strange live music act singing "get this party started" style pop songs more suited to a Friday night with your mates than a Sunday roast with your nan (especially as they had the volume cranked up pretty high). Grace and Rusty didn't seem to mind and settled in comfortably on their blanket beside our table.