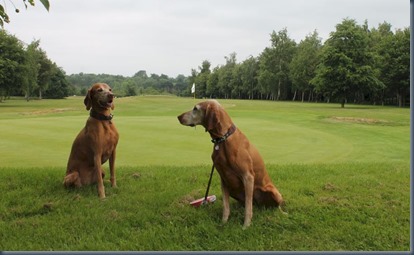 Road trip time! Some friends invited us to a dance event on the Suffolk coast so we thought that we would load up the car with club and pups, and try a few dog golf courses on the east side of the country. First stop, Diss Golf Club.
Walk – Unfortunately the road trip didn't quite stop when we started golfing. The course is surrounded by a number of roads. And they are quite busy so you hear the buzz and rumble of traffic through most of your round. While the course has an off-lead under-control policy, we found ourselves keeping the dogs on a lead for most of the course for fear of them wandering into one of the roads flanking the course. In the front 9, only holes 3 and 6 were significantly far from roads that we felt they could stretch their legs a bit off lead.
Water – No real water on the course. No water hazards or spigots. The 8th hole is relatively close to the clubhouse so you could duck in there for some water in a pinch. The entire course is very open with little shade cover. So be sure to pack plenty of water for the dogs on sunny days (and some sun cream for yourself wouldn't go amiss)
Wildlife – Lots of rabbits all safely sequestered in the thickets. Most of Rusty and Grace's off lead time was spent intently sniffing these thorny hedges.
Welcome – A number of other dog walkers did pass by on the course and every golf we encountered seemed delighted to meet Rusty and Grace.
Wind Down – Having to rush off to our dance event, we didn't get a chance to stop by a local watering hole or "doggie pub" so you will just have to check out DoggiePubs.org.uk to find a post play pit-stop.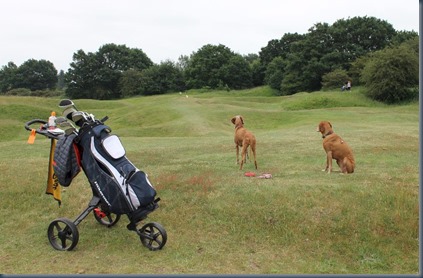 The Hole 9 green is like a giant, earthen, carnival ping-pong toss. The green is in the distance with the flag just poking out from its crater. Even Rust ad Grace seem bemused by this topological curiosity.