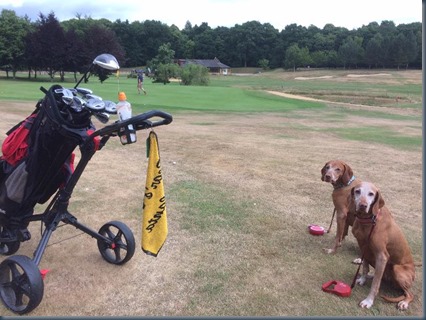 We have probably played Huntswood course in Taplow more than any other course in our brief golfing career. It is a favourite of our neighbors with who we golf with as a foursome more than all of our other golf buddies combined. Researching DogGolf, we found out they welcome dogs (though with a strict lead policy – in fact one of the staff came around on the course and stopped by us to remind us that they must be kept on the leads). So the 6 of us went out on our first Huntswood round dog golfing.
Rusty and Grace are getting ever more used to the drill and routine so they were pretty comfortable on the leads. Probably a good thing that they were so confined sincea resident fox on the 5th/12th was wondering around the fairway throughout the day and a throng of young bunnies were quite nonchalantly munching grass on the 7th (both of which inspired *extreme* interest by Rusty and Grace). Grace continued her ball finding prowess though now I think she is rooting for us to hit our drives into the rough so she can get a treat.
Walk: While the course is a moderately sized 5188 metres, the layout is such that there a number of ambles between holes making the walk a bit longer. It is mostly flat except for a bit of a climb up the 17th hole.
Water: No water on the course except at the clubhouse. Fortunately, the clubhouse is right next to the 9th hole so you can detour in for a quick drink stop (where you can wet your whistle at the bar as well). Also, adjacent is a big water hazard, but it is an artificial pond so it dries out in the warmer months of summer.