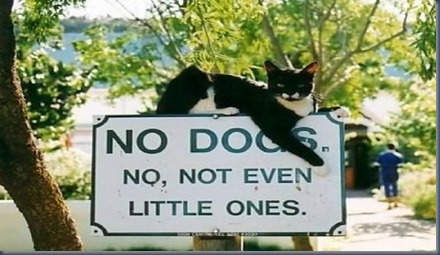 As the stats show, the strong majority of golf courses don't allow dogs. Some have specific rules against them. Others have never really considered the issues, but when asked responded 'no'.
The objections to dogs tend to fall into one of four main areas…
Wildlife Safety – especially areas where livestock or other populations of animals are very nearby
Sanitation – people not cleaning up messes
Dog Safety – dogs getting hit by balls
Disturbing Players – a few mistimed barks
I did occasionally hear the "slippery slope" fallacy (which is a variation of the "strawman fallacy"), ie. if 'we had dogs all over the place it would be mayhem…' Well, even if you become dog-friendly, it is doubtful that you will have 'dogs all over the place'. Hundreds of courses in the UK allow dogs, but none of them have 'dogs all over the place'.
For the sake of equal time and balanced perspective, here is a pretty comprehensive catalogue of all of the reasons provided to DogGolf.info's survery as to why certain clubs have opted to excluded canine caddies from their courses…
General
"You could end up with quite a few dogs on the course, barking as playing golf shot, distracting people you're playing with, possibly going to the toilet, it would have to be on a lead and you need something to attach the lead to whilst playing a shot. H&S, stray golf balls – protect yourself and dog…? I have occasionally thought it would be useful to be able to walk the dog at the same time but players want to concentrate on their golf, not be distracted by a dog." – Rawdon Golf and Lawn Tennis Club
"There are various reasons such as: Dogs biting/barking at golfers. Dogs urinating/scraping on greens/course. Golfers having allergic reactions. Dog injuring itself or others on the golf course. Kids/Adults afraid of dogs. Dog lifting another players' ball. Interfering with course maintenance schedule." – Down Royal Park Golf Course.
"We are constantly in a running battle with dog walkers who seem to think the course is a public space rather than private property so we could not condone players bringing dogs." – Brookdale Golf Club
Dog Safety
"We have a huge problem with dog walkers on the course as we have a public footpath running through the course. Trying to get non-golfing dog walkers to stick to the public path and not wander across the course endangering themselves and their dogs is a really big struggle for us. Whilst we are dog lovers and look after dogs for friends, we feel that it sends the wrong message to therefore allow golfers to bring dogs onto the course." – Barlborough Links Golf Cub
"We don't allow dogs for health and safety reasons." – Three Locks Golf Club
"For health and safety reasons we advise dogs not to be on the course when playing." – Abbey View Golf Facility
"Not safe for the dog with golf balls flying about." – Hirst Priory Golf Club
"Health and safety issues includes the safety of your dog, for example, being hit by other people's golf balls, and our insurance doesn't cover any potential issues caused by dogs on the course." – Gloucester Golf Club
"We try not to encourage golfers taking their dogs onto the course just as this may put other golfers off their game." – Nairn Dunbar Golf Club
"We do not encourage it as we have a lot of rounds played and if everyone came with a dog there would be mayhem. We have a number of footpaths which cross our golf course and not all owners decide to behave in a sensible way." – Gaudet Luce Golf Club
"We do not allow dogs on the course, for the safety of the dog and also for the players." – Nelson Golf Club
Sanitation
"Unfortunately we do not allow dogs on the Golf Course due to the health impacts it could have if they foul or urinate on the playing areas." – Westonbirt Golf Club, Gloucestershire
"Unfortunately due to past incidents we no longer allow dogs to accompany golfers. Poorly behaved dogs and excrement. It only takes one to spoil it for everybody." – Folke Golf Centre
"One or two people have unfortunately have let their dogs foul on the course spoiling it for everyone leading to a ban." – Barnsley Golf Club
"Certain people in the past had let their dogs foul the course and run about off their leads" – Kilmacolm Golf Club
"Unfortunately due to problems in the past with dogs fouling we no longer allow dogs on the course." – Whiting Bay Golf Club.
Wildlife
"Blackwood is a wild life sanctuary and therefore dogs are not allowed on the course." – Blackwood Golf Club
"I am afraid that we do not allow dogs on the course as we have a lot of wildlife which would be disturbed." – La Grand Mare
"Dogs are not allowed on the course due the resident families of deer that live on our course." – Bishopbriggs Golf Club
"We do not permit dogs on the course. We are on a deer park, so it could present problems." – Belton Park Golf Club
"The course is situated on a private estate where there is a lot of wildlife roaming about, so not conducive to dogs." – Dundas Park
"Dogs are not allowed on the course; the course is privately-owned and the owners do not want dogs on the land, due to the immediately-neighbouring farms and animals." – Faversham Golf Club
Disturbing Players
"There had been a few complaints on and off about behavior on the course over a short period. There was then a quite a bad one when a dog got free and went off barking and scaring players." – Clacton Golf Club
"Barking, digging, fouling, chasing squirrels, picking up golf balls, general distraction…And that's just what my border terrier would do if I took her out golfing." – Shandon Park golf Club.
"As Ravelston is a tight, compact course we do not allow dogs to accompany players." – Ravelston Golf Club