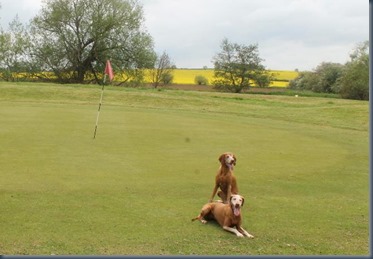 Dog Golf season is back! After a warm-up round at our home course Harleyford, Lori, the girls and I decided to venture up country a bit to try a new course. Well, so new that it isn't even open yet – Banbury, aka Adderbury Course. The whole operation is in transition until is formally re-opens on 1st June with new furniture and other enhancements. It's not confirmed what the new dog policy will be when it re-opens, but let's hope they keep it dog friendly as it is a lovely expanse of open parkland.
Welcome: We had been unable to reach anybody on the listed phone number all week (no voice mail, it just rang and rang), and it had a website up though that was spartan. The Google listing said it was "open" so we set off. Unfortunately, when we arrived there, no one was around. There were no signs on the site indicating whether it was closed, or open. We set off to try a few holes and get a feel for the course and finally stumbled upon the greenskeeper who gave us the update about the change in management and refurbishment. On the clubhouse was a sign with an email for enquiries which we contacted when we returned, but that email just bounced. Oh well, Banbury could be a good dog golf option, but make sure you make contact before you head that direction even after 1st June.
Walk: We did get a look around the place (there are public footpaths across the facility) and so got a bit of a feel for it. Great practice for "In the Ruff" training. Plenty of wide fairways, but stray just a bit and your ball will be devoured in long grass. In fact, on hole 6, the fairway is over 100 yards from the tee so any duff tee shots will be penalized severely.
Wildlife: Rife with deer and monkjack. We saw 3, but the groundskeeper said that he had seen 18 that day. So unless you want a "Fenton…Fenton…FENTON!!" moment, best bring a lead for safety.
Water: No shortage of watering holes on this course. It is flanked on two sides by the River Swere and the Oxford Canal and the River Cherwell runs right through the middle. In addition, there are a number of small streams and ponds dotted around especially holes 2 and 3.
Wind Down: We popped just around the corner to the The Red Lion which was rated in Doggiepubs with a solid 4 stars. Several other dogs were already there and the barmaid said they were welcome anywhere in the pub, but another waitress steered them out of one of the dining areas. They have a dog bowl by the fireplace and dog treats at the bar. They also have outdoor seating in the front and the rear The front is a bit smaller and close to the road (though a side road with little traffic), so we opted for the back which was a less scenic (basically a section of the car park), but had a nice enclosed area which kept the dogs easily contained. Very tasty pub grub just short of gastro standards. I had the Wagyu beef burger and Lori had the slow roast chicken and we topped if off with the banoffee pie.