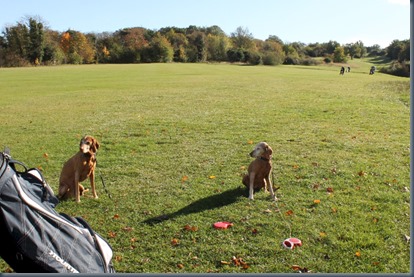 Welcome – While we didn't meet any fellow dog golfers, we did see lots of dog walkers going through and around the course on trails that share the land of Epsom Downs so we didn't feel out of place at all. Many of the walkers had their dogs off lead so we felt that letting the hounds loose (under control) was perfectly normal too.
Walk – That said, we did keep the girls on the lead for the majority of the course simply due to the proximity of a number of busy roads flanking and criss-crossing the course and we didn't want them (especially Rusty) inadvertently wandering on to them. The 5th through 7th and the 14th-15th are your best places away from the roads to let them stretch their legs. The course itself is one of the most enjoyable we have played. It is on the short side (par 70 and 5780 yards) making it a bit more manageable hike. Third, the course does have some undulations in the topography, but none seemed overly steep or difficult to summit. At the topmost part of the hilly bits are some of the finest views of London in the distance.
Wildlife – Coincidentally, aside from a few birds and squirrels loitering around, the only wildlife we came upon was a horse rider crossing behind the 5th green. So the walking paths must be riding trails as well. I guess we shouldn't have been too surprised since the south side of the course abuts the Epsom Downs race course. The 9th and 10th parallel the Epsom Downs racetrack (so if you time your round well enough, you could catch a few races going past you).
Water – The course is devoid of hazards. Neither sand traps nor water hazards. A few holes in we were congratulating ourselves on avoiding them until we realized that there had been none to avoid. While this encumbrance free play adds to the golfers enjoyment, it does mean no water on the course for the dogs
Wind Down – Once you start on your round, the course doesn't swing back to the clubhouse until the 18th. But if you want a mid-round break, both the 5th and 10th holes finish right next to the Derby Arms pub which has a 4-star rating on DoggiePubs.org ("Lovely Gastro Pub, dogs are only allowed in the cosy bar area however the full pub menu is available. Lovely atmosphere and great food!").