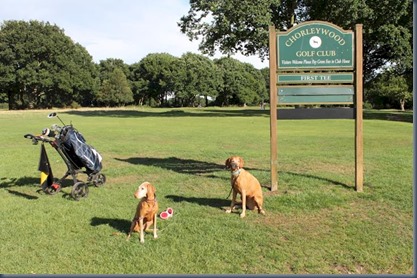 Welcome: Chorleywood is one of the doggiest golf courses we have been to. There was almost a 1:2 ratio of dogs to people. Actually, we were the only dog golfers, but the course is on public land at Chorleywood Common which is a hugely popular dog walking area. The dogs were off lead all over the place. But it wasn't mayhem. The golfers looked out for the dogs and their walkers, and the walkers looked out for the golfers. And everyone must be very responsible as I didn't spot a single dropping anywhere (also the park has two dog poo-bag bins at the entrance car park). Rusty and Grace even made a new friend, Tia (see photo at bottom).
Walk: A very flat course making for a leisurely walk. Due to being on public land, the course is not allowed to put up a bunch of directional signs, but the scorecards include a course map with red arrows pointing to the exit for each hole.
Water: No real water hazards on the course aside from a dried up pond on the 1st hole (and the dogs weren't thirsty at that point).
Chorleywood is a truly relaxed course. People are chill about the dogs. The walk is easy. There are no sand bunkers and only the one small "water" hazard. The putting greens are flat with low fringe. The par is a modest 68.
Wind Down: For post-puppy round dinner, we went to a very nearby doggie pub nearly as "doggy" as the course was – The Black Horse. Appropriately situated on "Dog Kennel Lane". There were a similar ratio of dogs to patrons there and the dogs were welcome throughout the establishment (at the bar or at the table seating toward the back). A basket of dog treats is prominently displayed on a shelf by the bar. They do ask that the dogs be kept on a lead (which is not much of a problem since they were just curled up by our table on the floor). The food is hearty and tasty with a pretty extensive menu. I struggled to finish my Chicken and Mushroom Stroganoff (because the serving was so big), but that didn't stop us from going for the Treacle Sponge with extra Custard (yum).