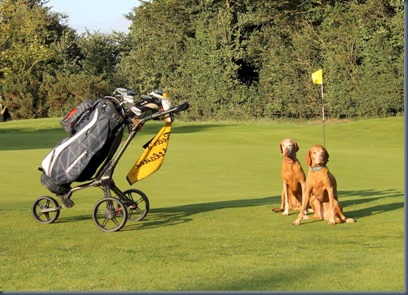 Welcome: Another "Common" course on the same weekend this time travelling north a bit to Harpenden Common. We had to wait a few minutes for a scheduled event to finish up before we started our round. So we sat outside the clubhouse to have drink Dogs are welcome on the course , but not in the clubhouse…in fact, no golf shoes of any type are allowed in the clubhouse either. Not a problem since one of the bar staff came down to greet us and offered to bring us drinks. Without even asking, our beer and prosecco was accompanied by a big dog dish of fresh water. A number of members greeted us through the day and complimented Rusty and Grace's fine behavior and chatted a bit making us all feel very welcome.
Half of the course is on common land which gets lots of dog walkers anyway and there were plenty about during our round. There is handy poo-bag bin on the 3rd hole (by the walking path).
Walk: At £30 (twilight fee, peak fee is £40), Harpenden Common is one of the more expensive common land courses we have come across. What you get for that are well-tended, lovely grounds (grounds maintenance is one of the biggest expenses for a course) rambling over a relative flat stretch.
What you do have to navigate are some roads. They are small byways, but cars do go down them periodically. They don't just run along the course, but they run through it. In fact two holes, 2 and 8, cross the road. Signs warn you to be on the look out for cars before playing, but dog golfers will also need to take special care with that their canine companions don't wander across.
Water: The is one water hazard by the 7th green and the 16th tee, but it is artificial and relatively stagnant. I don't think even Rusty or Grace fancied a drink from it. So bring your own water and the 9th does finish by the clubhouse where a fresh dish of water is always waiting.
Wind Down: We made our way over to the Elephant and Castle pub on the other side of the Harpenden Common. Another DoggiePubs 5-star pub with the clientele to match (5 dogs when we arrived). Tasty, hearty food at a reasonable price in a warm, friendly ambience.