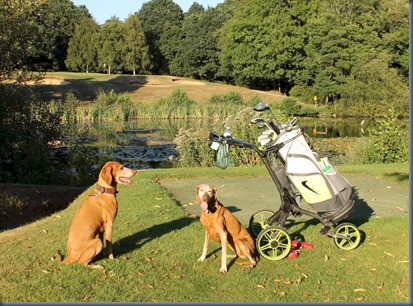 Welcome – Calcot Park is quite content to have dogs are long as they are on leads and looked after (euphemism for 'make the mess is cleaned up').
Walk – And the course is quite picturesque with gently undulating ups and downs in the landscape.
Water – Calcot Park has only one body of water, but it is a doozy. One of the biggest ponds (nearly a proper lake) I have seen at a golf course. And quite accessible to the dogs (over on the bridge side) to grab a sip.
Wildlife – Oh deer! This big body of water has attracted some big creatures. Notably deer. We saw deer about a half dozen times during our round.
Wind Down – For our wind down we opted for another DoggiePubs recommendation, the semi-eponymous Fox and Hounds Pub.
One caveat is that you might need to use your hounds' sniffing skills to find the pub as it is not actually where it says it is (The British have the reputation for being the worst at giving directions, but actually it really the case that they are terrible with creating addresses. They are all vague and inconsistent. Numbers going up one side of the street and then down the other side, streets stopping and then starting again after some hiatus, vague addresses that have some house name on a street several miles long, etc.). The official address on their website and most listings is "Station Road". Except that the pub isn't actually on Station Road. It is sort of near Station Road (again, the British with the approximate addresses), but Station Road isn't even the adjacent street. You take Station Road, then you go on Hangar Road and then you get to the pub which is actually on Deans Copse Road. I asked why their address said "Station Road" and the publican replied, "Oh, years ago this street used to be called 'Station Road'." History preservation I guess.
Their sign announces – "Furbabies Friendly – dog beds, water bowls, toys, paddling pool, poop bags, towels, free treats, ice cream @£3.50, and lots of fuss from the staff." We were welcome by a couple of sweet resident French bulldogs accompanied by a jack russell and availed ourselves of the free doggie treats at the bar. We also ordered up the doggie ice cream. We have read about this stuff, but never tried it. Grace enjoyed it thoroughly (see photo at bottom).
A sign on the bar says "Vote for us for the Dog Friendlist Pub of the Year 2018" so they are setting their bar high. They've got (all) our votes! It was there that we found out about the competition and entered it ourselves, so while you are on the site, vote for DogGolf too!