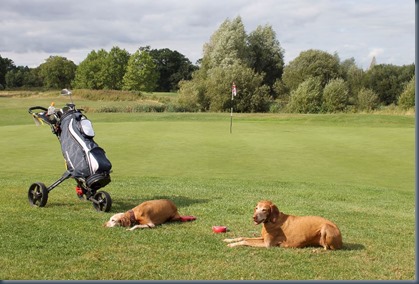 Wokefield Estate is a palatial complex with hazards of a size that rivals its sprawling country house namesake. A new benchmark for largest lake was the body of water on the 12 hole completely as long as the hole itself. For birdie position on this par 3, you have to traverse every inch of it. It reminded me of the dreaded 5th hole on the Shangri-La Villingili course in the Maldives. And the water extends further from there with rivulets extending from each end linking it to yet another sizeable body.
The sand traps are just as a leviathan sometimes larger than the greens themselves. In fact, Lori referred to them as "sand lakes". Sort of the Morecombe Bay of golf courses (and just as dangerous). The trap at Hole 2 is like some runaway deformity with random appendages protruding in various directions like some giant, ball-eating, flat-world octopus. And the size of so many traps doesn't mean the sand has been sucked up into a few big pits. There's plenty of sand left for a huge number of smaller traps as well (71 in total to be precise).
Welcome – When I originally contacted Wokefield, they said that dogs were "welcome on a lead or under control", but when a booked the tee time, the pro shop mentioned the lead again. As a result, while I have included the comment "on a lead or under control" in the Notes section of their profile, I have ticked them as a "Lead Required" course. Given all the wildlife around, it's probably not a bad thing to have a bit of extra constraint to guard against temptation.
Walk – After so many hilly courses, Wokefield was a welcome relief as a nearly flat landscape.
Water – Eight water hazards in total, many of which are quite sizeable (see above) means that you are never very far from a sip of water for the dogs (and most quite accessible with gentle embankments in places to set down to them).
Wildlife – A virtual menagerie. Pheasants in all the rough. Rabbits too.. Water fowl galore. And even llamas by the exit!
Wind Down – For the first time since starting this site, we took our wind down at the halfway point with a tasty lunch and refreshing drink at clubhouse itself near the 9th Hole. Being a hotel operation, they had an extensive menu that was available all day long. The burger on brioche and very crunchy chips quite exceeded our expectations (though admittedly a bit pricier than your typical pub fare).
Expand your mind as big as the traps that surround you and get Woke to dog golfing.