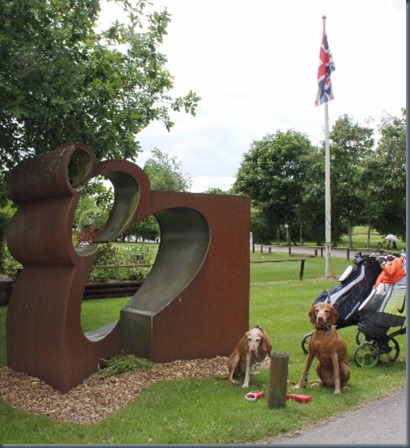 The pitch is back! (And the putt and the drive) After an extended hiatus of winter dark, wet and short days, the Dog Golf pack finally ventured out onto the course for a round. Well, a half round at Deanwood Park's lovely 9 hole.
Walk – A perfect start to ease into the 2019 season. The course is an easy play – not too many sand traps, no significant water hazards, short par 4s and lots of par 3. All set on easy to amble, relatively flat ground.
Welcome – You always know you are at a truly dog-friendly course when you rock up to the pro shop for your tee time and bump into another pooch there. This time I was welcomed by a sweet spaniel. No other dogs on the course itself, but plenty of dog-lovers about admiring Rusty and Grace (much to their delight).
Wildlife – The photo at bottom shows the pond adjacent to the 9th hole with, when we played, a stunning display of azaleas in bloom. This one, and the one between the 7th and the 8th attracted a few resident ducks.
Water – No real water on the course, but being a shortish 9-hole, it isn't too long before one is back at the clubhouse for a drink (water or otherwise for the dog minders). There are a few small water hazards, but they were mostly dried out and it was only May. The one big pond in the area (not really a hazard as it is set way off to the side) is right near the clubhouse anyway.
Wind Down – The clubhouse actually serves what looked like some tasty vittles, but we had booked a table at the nearby Lock Stock and Barrel (another Doggie Pub website 5-star find). The pub features a tasty menu and a charming setting on the canal. The doggie welcome was first rate with biscuits at the bar, water bowls on offer and plenty of fellow canines accompanying their families for the day out. The service was quite slow (took us an hour to get our food), but we didn't mind so much as the dogs settled onto their blankets and we tucked into our pints to relax after exercising some golf muscles that have been dormant for a few months.