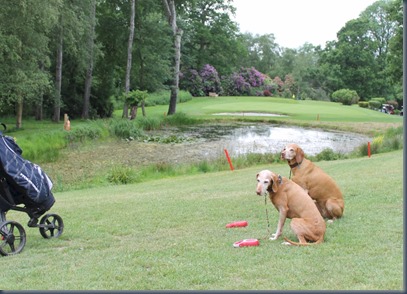 Welcome – A bit of sunshine on the weekend and a chance to grab a last minute round at Sandford Springs. As usual no other dogs around, but no one batted an eyelash at Rusty and Grace joining us around the course and several stopped to greet them.
Walk – Roly-poly landscape had its literal ups and downs. Hole 12 seemed like the Everest of fairways with its relentless ascent, while Hole 18 seemed like a merciful abyss where the slights nudge off the tee would send the ball rolling for ages down the fairway.
Water – Water, water, everywhere…but not really a drop to drink. As the name implies, Sandford Springs is awash with water hazards. In fact, the 9-hole course we first played is called "Lakes". And lakes it has. But those are not necessarily watering holes for the dogs. First, they have quite steep banks making them mostly hard to access. But more importantly, they are all quite stagnant. Even playing in the early summer after some plentiful rain, the water was quite murky and not the most appealing for quenching a thirst. Not to worry though. The 3 courses of 9 holes each means that you are back at the clubhouse (or their "Halfway House" café) after 9 holes where everyone in your party, man and mutt, can slake their thirst.
Wildlife – All the bodies of water meant plenty of water fowl – all sort of ducks, geese, cormorants and others.
Wind Down – We played on a late Sunday. While that is one of our favourite dog golfing times as most people have cleared off, it also makes it very hard to find a dog friendly pub for some grub after the round. Most pubs serve Sunday roasts and then shut shop mid-afternoon. So we opted for the most convenient option which was dining at the Sandford Springs clubhouse itself. The dining rooms doesn't allow dogs, but it has an outdoor patio area which does. We were also very pleasantly surprised by the pretty much gastropub quality of the vittles. The pea soup was superb, the truffle egg on brioche toast was an unexpected gourmet treat and all the food was expertly prepared.