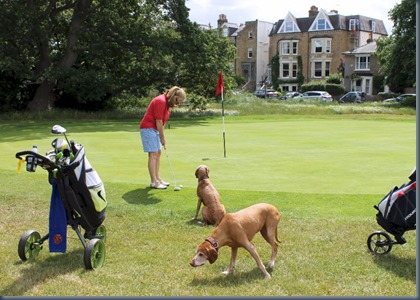 Welcome – London Scottish is one of the most dog-friendly golf courses you will find. Probably rivaling Sunningdale (don't know as I haven't had the chance to experience Sunningdale first hand and am only going by reports) and maybe the best of the open visitor clubs (Sunningdale requires playing with a member and a handicap certificate). It is also outstanding for anyone wanting to give dog golfing a try as it is so relaxed. And there are so many dogs!
Dogs everywhere. There are almost as many dogs are there are people. Admittedly, this was a sunny Sunday morning and all the dog walkers were out on this park land which is open to everyone. And admittedly, we were the only people playing golf with dogs that we saw. But still, the welcome to us as dog golfers was pretty much unequalled. At the pro shop, I asked about the protocol for dogs and the response was "You can do pretty much what you like with your dogs."
It is also a great off-lead course, but somehow we forgot our whistle (and don't quite trust Rusty to voice commands). Amazingly, we bumped into some walkers who stopped and admired Rusty and Grace, and when we mentioned our regret about the whistle, they reached into their pocket and loaned us one of theirs for the day!
One curious constraint on playing protocol was actually put on the humans – you had to wear "pillbox red" (ie. bright red) shirt "by order of the Wimbledon & Putney Commons Conservators" (which the lovely Lori is modelling in the photo above). Fortunately, the pro shop had some to lend out for visitors (though there was a limited supply on a busy day so if you have your own, it would be easier and safer to bring it). And fortunately, Rusty and Grace has their own "red" coats. Maybe not pillbox red, but we did put on their brightest red collars for the day.
Wildlife – Perhaps due to being in the city and the dearth of water hazards and the throngs of dogs, there wasn't much wildlife to be seen. One animal you don't often seen on the course was all over the place at London Scottish – horses. They also have paths in the park and you saw them all over the place (I suspect they have to stick to the bridleways or else it could be the only course in the world where you could play "Horse Golf"!).
Walk – As a west London course, it was an easy walk on pretty much entirely flat ground. It's also a relatively short course at 5458 yards.
Water – Do bring water. There are no water hazards, no water spigots and the course doesn't return to the clubhouse until the 18th hole. There is a little rivulet on the 17th with some water, but by that time you are just about home.
Wind Down – Your options for post-round vittles are as abundant as the canines roaming the course. For starters, the clubhouse itself offers tasty baguettes and full bar with picnic tables outside (surrounded by a little fence to keep the dogs confined to the area while you eat).
In fact, London Scottish might just have the most dog-friendly "wind down" (or "rub down") in the entire UK! At the clubhouse, the Dharma Clinical Therapies offers massage treatments in one of the rooms. The room is quite spacious and they said that dog would be welcome to curl up on the floor while the owners get their therapy session (book in advance to avoid disappointment).
Seeking a more expansive menu were turned to DoggiePubs again and there were a half-dozen top reviewed establishments within a mile or so. We were playing on a Sunday and usually our problem is that by the time we are done, the typical pub Sunday roast is finished and the kitchens close up in the late afternoon and early evening. This time we decided to do an early round and hit one of the Sunday roasts.
Our problem wasn't lack of pubs to consider, but their popularity. We called one after another (we couldn't reserve ahead of time because we really weren't sure when we would finish) and they were all booked up. Often, pubs take bookings for restaurant tables, but the dog friendly areas (outside and by the bar) are first come, first serve. But in London, it seems more of, if not all, tables are bookable. Not only was there no room at the inns, but also the proprietors were a bit unpleasant on the phone responding in an almost churlish fashion of "don't even think about coming here mate" (probably a bit stressed with the heavy crowds). Fortunately, after a few calls we hit upon The Alexandra in Wimbledon centre. When I phoned, they were very encouraging and told us that they would find a way to squeeze us in. When we arrived, there were several tables available (as lunch period was starting to taper). They had outside tables facing a cozy cul-de-sac, but we opted for one of the internal tables. When we rocked up to the bar, the first question we got was "Can I fill your dog's water bowls for you?" The food was first rate with tasty starters and sumptuous roast platters we could barely eat all of (mind you, Rusty and Grace didn't mind helping us with the bits we couldn't finish).