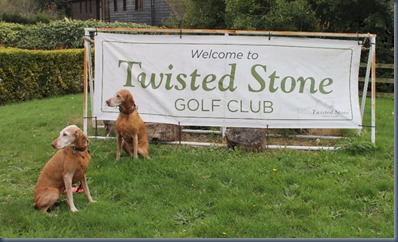 Welcome – I started this website in response to my frustration with finding information on the web and on golf courses' websites about whether dogs were allowed to accompany golfers. Even after my research, I find that I have to call ahead to confirm the policy as there are often misunderstandings among staff, miscommunications, and changes in policy. Even then, it is always with a bit of trepidation that we arrive at a golf course what the vibe is and whether the members really feel okay with pooches invading. The first (literal) sign that this was truly a dog friendly course was a notice posted asking for all dogs on and crossing the course to be kept on a lead making it clear that canine company was a pretty common situation.
Walk – The dog friendliness was only accentuated once you got on the course where every few minutes another rambler passed by walking their dog. The walk itself was about as flat as you will find being in the Wey watershed of the Surrey plain.
Water – Water, water, everywhere…and plenty of drops to drink. There are 5 sizeable ponds around the course. They were all brimming due to a week of heavy rainfall prior to our round. In fact, the water level of the one by 15th hole seemed to be higher than the ground itself. The course runs along side the River Wey and there are half a dozen little rivulets that run through the course. With the 9th hole returning to the clubhouse, this is one course where you might get away with bringing water along for the dogs. Fortunately, the water hazards mostly flank the holes so there are few holes where you have to clear them to make the green.
Wildlife – Given the copious water everywhere, not surprising to find a flock of seagulls on one of the fairways. But the ponds also attracted a range of waterfowl including swans and mallards.
Wind Down – We dried off at The New Inn in Send. Finally, a pub that serves food throughout the day on Sunday so we didn't have to feel rushed to finish by a certain time. A fine food it was and especially doggie friendly. They had a water bowl and biscuits both of which they brought over to the table.