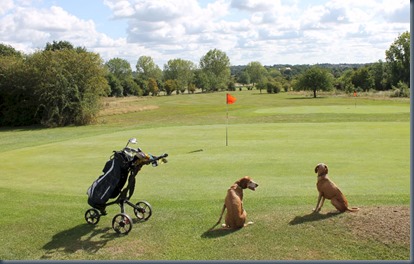 Welcome – Bit of a confusing welcome as there are two golf "clubs" on the same course here – Chingford and Royal Epping Forest. Chingford is the public course and Royal Epping Forest is the members only club and clubhouse that sits adjacent to it. We thought we were contacting the Royal Epping Forest, but the enquiry number goes through to the Chingford booking system. Once there, it became patently clear that dogs were most welcome, and lead free too as long as you kept them under control. Chingford is another parkland course so there are lots of dog walkers about with their dogs (though we didn't come across any fellow dog golfers) making Rusty and Grace feel right at home.
Walk – The course is a pleasant mildly undulating traipse. A bit of up-and-down and side-to-side makes the ball play a bit tricky with cleanly hit drives rolling down an embankment at times. Grace was delighted at the fun house topography as it put her ball-finding-in-the-rough skills to work (along with the accompanying treat). Furthermore, the course was covered with lots of autumn leaves making even the straight-down-the-fairway drives a chore to find in the shell game of foliage debris.
Water – No real water on the course, but the 9th hole does finish back at the clubhouse where there is a delightful café serving hot food and a range of cakes and drinks.
Wildlife – Without the lure to waterfowl of water hazards and being quite urban (despite being a 'forest' enclave), the wildlife was quite limited to a urban critters – crows, pigeons and squirrels.
Wind Down – What the Kings Head in Chingford lacks in booking ability, it more than makes up for with some exceptional dog friendliness and quite a tasty menu. Travelling a distance for the day, we wanted to make sure we could get a meal. We tried booking from their website, but that facility just creates a "booking request" which says "Thank you for your enquiry, which we have received – but it is not yet confirmed... A member of our team will be in touch with you soon to confirm all your details." When no member of the team got in touch, I sent a chaser email. The next day, still no response to the email so I called. The manager answered saying she would check it all out an call me in an hour. I waited and hour and half…no call. I called the pub again. No answer. So I left a voice message as requested. A few more hours…no call back. In the end we just took a punt and showed up and they had plenty of space for us. Still a bit disconcerting how disfunctional their communications are especially for a Sunday lunch when places can get booked up.
All was forgiven when we arrived and the place was perfect for Rusty and Grace. They had big dog biscuits at the door, several water bowls which they cheerfully filled and brought to our table. But the piece de la resistance was their special "Doggy Menu" (see below)! We haven't seen one of these since Sunningdale. Rusty and Grace enjoyed a bonus serving of sausage and carrots, thank you very much. The people food was very nice too as we tucked into a generous Sunday roast with a beef duo (sliced roast beef accompanied by beef rib) with a side of some of the moreish, cheesiest cauliflower cheese we've ever had.