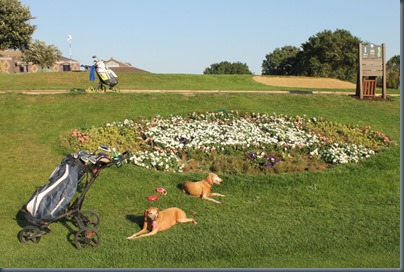 Welcome – At the outset we thought that the girls might be a bit out of place at West Essex as a member came up to us at the pro shop and commented on them saying "Well, that a first" (ie. first time seeing someone golf with their dogs). They were quite welcoming and were bemused by our accounts of Grace's ball finding abilities in the rough. But any concerns were especially allayed when we stopped at the 9th hole for some extra hydration. Half a dozen members came up to say hi to the pair and comment on how handsome they looked and how well behaved they were.
Walk – I never realized that greater London was so hilly. The first few holes seem as vertical as they are horizontal. Things flatten out mid-course until the rollercoaster starts again towards the end culminating in a crampon-optional summit at the 18th. One dividend of the nose-bleed elevation are some cracking views of the London skyline in the distance.
Water – Two big water features by the 11th/14th and 10th provide an opportunity for a sip, but also quite a few brooklets run through the course most of which were still flowing with water even with our late August play. The 9th does circle back to the club house (and halfway hut) so you do get a chance for a refreshment fueled respite.
Wildlife – The wildlife was quite limited. Even the waterfowl on the pond by hole 14 were just decoration models.
Wind Down – It is even harder to find a pub serving dinner on a bank holiday Monday than it is on a midday roast-oriented Sunday. But after calling half a dozen doggie pubs in the area (of course, from DoggiePubs.org.uk), we finally found the The Woodbine in Waltham Abbey on the edge of both Epping Forrest and the M25. Its description there ("Country pub with cask ales, dog friendly and good food") sort of under-sells it as dos its first impressions. Cosmetically, the pub is a bit tattered with quite a bit of clutter and a hodgepodge of décor. But, when it comes to the fundamentals – food, entertainment, refreshment and beer – it really excels. They seem to have some form of entertainment from jazz singing to psychic readings every night. Their broad array of craft beers was only exceeded by the longest list of ciders and perries I've come across at a pub (and the bar had a few dozen varieties of gin to boot). I wouldn't quite call the food "gastro" as the dishes weren't especially inventive or trendy. I would call it exceptionally well-prepared pub grub. Probably the best hog roast sandwich (on brioche roll packed with pork, sage stuffing and bramley apple). Lori was delighted to find poblano peppers on the starters menu. But Rusty and Grace were especially appreciative of the extra-attentive service including dog biscuits and a fresh bowl of water brought to the table.