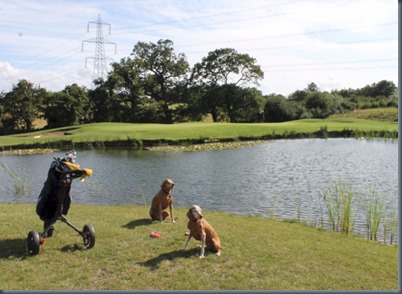 Welcome – Magnolia Park is very happy to have dogs as long as they are kept on a lead (two people mentioned to us that they were welcome when we arrived).
Walk – Back on the Oxford Plain, the walk is leisurely flat. But what it lacks in elevation Magnolia Park adds in distance. A nearly 7k course that the club recommends 4.5 hours to play. The round includes 4 par 5s including topping and tailing your day on the 1st and 18th. And 6 of the par 4s are over 400 yards. Chivalrously, the red ties are set 50-100 yards ahead (in fact the red tie round is a half kilometer shorter in length).
Water – Part of being on the low lying plain (versus our more local Chiltern Hills) is that water settles. So Magnolia Park was had plenty of water all around with a couple of small ponds, a couple of big ones and a number of streams. They were not all major hazards as only the 2nd and 15th both had green obstructing ponds. The two massive lakes flanked alongside the 1st and 18th fairways only cause problems for the most extreme of draws or slices. The hazard in front of hole 2 had steep wooden sides making it inaccessible for a sip by the dogs (as well as a bit dangerous being hard to get out if a creature fell in), but the others all had access points. The course doesn't return to the clubhouse until the 15th hole, but there is a halfway hut at the 11th with water.
Wildlife – Quite minimal and surprisingly little water fowl in the expansive water features.
Wind Down – The Pointer might just be the finest dog friendly pub we have ever visited. It is beyond "gastro" and really more "gourmet" eaterie. And yet its fancy fare doesn't preclude including your best friend. In fact, dogs are welcome throughout the expansive establishment in either the back garden, pub lounge or dining room(s). Obligatory biscuits and water bowl. Many of the guests were asking about them and reaching out to give them the attention and stroking they adore. But what was one of the most dog-friendly gestures we have ever experienced is that when one of the servers was clearing another table, they passed by our table and asked if our dogs would like the steak scraps that the diners had left on their plate (Grace: "Yes, please!!").