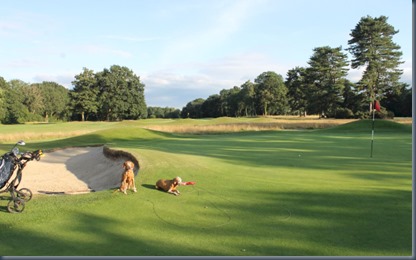 Welcome – The course is quite restricted in its welcome to canine companions limiting them to weekday evenings after 5:00 pm. Even with a relatively late summer's sundown, it's tough to get a full 18 before dark (though the club does offer a very attractive twilight green fee of £29). Still, everyone we bumped into fussed enthusiastically over Rusty and Grace (which they quite enjoyed).
Walk – The course meanders through an entirely flat Thames Valley landscape. While the variety of trees and greenery are pleasing to the eye, the profusion of obstacle from hillocks, bunkers, shrubs and anything else the designer could think of throwing in the path of your approach can be a bit more confounding. That said, for the longer holes, the fairways were groomed as neatly as some greens as other courses.
Wildlife –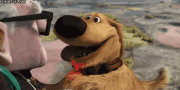 Water – The course doesn't have any bodies of water on the course, but there is a fountain at the 7th and the 11th finishes back at the clubhouse for any water pitstops required.
Wind Down – Rather than turning to our trusty DoggiePubs.org.uk, being relatively close to home we knew just the place for a post-round wind down in Sonning – The Coppa Club. Tasty food and very dog friendly (they have dog biscuits, watering bowls AND blanket at the door as you come in). The place is spacious with a huge riverside garden so there is plenty of room for the girls to settle down on their beds (or one of the landlord's blankets provided). When we arrived, there were lots of dogs around including another (but much younger) pair of Vizslas. The biggest bonus, after playing a late day round in the later hours of a summer's evening, is that the kitchen serves till quite late. The only problem is that the restaurant is very big (which does make it easier to get a table) and very popular (which means that you should still book to be safe). The combination of these two things plus a limited car park means that it is always hard to find a space at the pub itself. Furthermore, Sonning is a nightmare to park in with no nearby public car parks and very limited street parking (with lots of irritable residents who are happy to get you towed if your parking strays at all from authorized places).