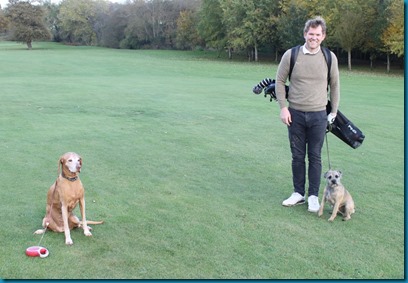 Water – "Water" first on this write-up. If there is one place to find plenty of water, it is in a valley. And on this particular autumn day, the heavens bestowed all the more of it. We had booked an afternoon slot (with a very reasonable twilight rate) which was about the only break in the weather that week. And even then, the dark clouds decided to shake the last few drops from their loins onto us. Still, the late afternoon scattered showers meant one thing that we have come to appreciate and enjoy in the UK more than any other place we have visited…rainbows. On the way, passing through the rolling hills of the upper Cotswolds, we actually enjoyed a double rainbow (see bottom photo).
On the course itself, there were only a half dozen pure water hazards are sprinkled around the course, but slicing right down the middle is a significant flowing steam. Not just a little drainage ditch often found on courses, but an actually geographical feature properly named (Sutton Brook) and everything. It crosses the approaches of several holes that traverse it. The good news is that the stream is a free drop zone. The bad news is that when we were playing in rainy October, it was flowing so swiftly that by the time we got there to retrieve our stray ball, it had been washed away (and even if it wasn't, the water was so turgid from the flow that there would be no finding it).
Walk – Feldon Valley not only sits in a valley (good for views), but somehow has managed to incorporate the traversing of this trough with nearly a third of its holes. Another crossing the chasm course with 5 holes bisected with plummeting crevasses. At least, they had the foresight to construct staircases (yes, "staircases") on several of these to make navigating them easier.
Welcome – We actually encountered another dog golfer during our round, Otter (see photo above). We had a very quick photo op greeting and Otter's person waxed appreciative of how great it was to have a course where he could bring Otter.
Wildlife – Maybe the autumnal inclement weather has scared them into cover, but didn't encounter much at all during our round.
Wind Down – The club looked like it had a quite impressive restaurant which it turns out is dog-friendly as well. In fact, the course is part of a hotel and the hotel welcomes dogs too! However, we had booked a recommended doggie pub down the road for dinner. The Red Lion was one of the most "gastro" of the gastro-pub we have visited recently. Truly tasty and superbly prepared food was just what we needed to take the chill off of our wet outing. Grace felt right at home with other dogs settled on the floor at every other table in our room.