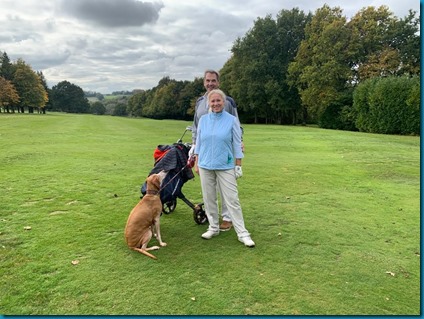 Welcome – Alton golf club is not only one of the most welcoming of dogs, but it is certainly the most welcoming club overall that we have ever played (having played over 70 different courses). On arrival, we met Millie, the resident dog who greeted us warmly (photo below). The members who welcomed us so kindly all knew the many members and their dogs who frequented the course. Mike "Hobbo" was especially kind enough to offer to take our picture which is the first shot we have of all 3 of us on a course (see above)! We stopped at the 9th hole (well, the course is a duplex setup with the "back 9" being variations on the 9 holes of the course) and could have just spent the rest of the day enjoying the affable camaraderie.
Walk – There is good news and bad news. The good news is that the course is a more modest length of 5627 yards. The bad news is that a good chunk of those yards are precipitous ascents. The course is bit like the final throes of a storm at sea being tossed up and down at the outset and eventually settling down to more flattened waters (with a bit of rocking back and forth at the ample number of dog-legs on the course). The silver lining to these high-altitude climbs is that you are treated to some amazing views of the Hampshire countryside at the summits (see below).
Water – Being on such a hilly terrain, it is no surprise that there were no water features (water spots tend to be at the bottom of hills, not the top), but there were water spigots at several places around the grounds. And the course obviously returns to the clubhouse at the 9th where there are dog bowls for Grace's refreshment.
Wildlife – Not much on the course really, but a (fenced) field of sheep next to the 5th/14th hole (who took great interest in Grace as she passed by).
Wind Down – The "community-owned" White Hart was similarly welcoming to doggie patrons. Even before we had submitted our drink orders, the server had brought a bowl of water to our table for Grace. In fact, at one point in the evening, every single occupied table had a dog companion (and a water bowl on the floor). Unfortunately, the food didn't quite live up to its trendy gastro-descriptions on the menu. The fancy names of the dishes on the menu didn't match the pretty ordinary pub grub that came out of the kitchen (eg. the "triple cooked chips" are pretty much standard chips). The best part was the onion rings that had big pieces of onion with not too heavy batter.