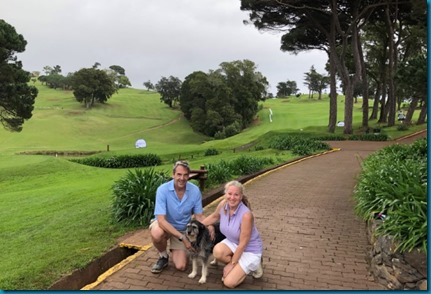 Welcome – We took an extended weekend and decided to try another set of warm climate islands in the middle of the Atlantic with few golf courses after our delightful visit to the Azores last year.  So we decided to check out Madeira. In general, we preferred the Azores (more flowers and greenery and less built up), but we have to say that Madeira is at least more dog-friendly with their golf. We will always inquire about the dog policy at any course we play (even without canine companion in tow). We were delighted to find out that not only Palhiero dog-friendly but they even have their own dog mascot, Denis (see photo above). Denis was a poorly stray who wandered up to the course one day years ago and the course embraced him. He has had a rich and long life making the course his home. Also, we had the serendipity to meet one of the dog golfers who had just finished a round – Cosi (see photo below).
Walk – The spectacular views of the ocean below won't be the only thing taking your breath away as it is a challenged roller-coaster of precipices like the island itself.
Water – The course had no water hazards or other water sources on the course, but it has "halfway houses" by both the 6th and 12th holes so you are never very far from liquid refreshment (for you or your dog).
Wildlife – A few random sea birds.
Wind Down – The obviously wind-down is the clubhouse itself. In fact, people make the windy trek uphill to the course who don't play golf but just want to take in the spectacular vistas from the clubhouse restaurant terrace. We stopped for a "Madeira Tonic" (like a gin and tonic made with Madeira wine) and some of the local orange cake.