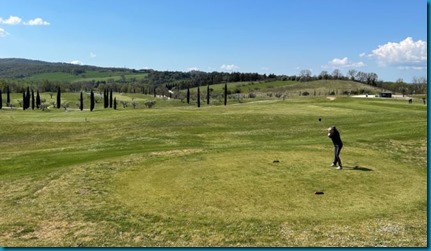 Welcome – Lori and I have a tradition of visiting Italy every Easter weekend as the two public holidays in the UK (Good Friday and Easter Monday) give us a 4-day weekend. Just enough time for a 2-3 hour flight and several days of exploring a small area of this charming country. This year we centered our trip at Saturnina, famed for its aquamarine, tiered hot springs. And like many thermal springs, a resort is built around them which just happens to have an 18-hole golf course. So of course, we had to get in a round (unfortunately, the "magic algae" of the springs didn't seem to do much for our game). Especially, as we saw dogs throughout the quite luxurious hotel, we had to ask if the course welcomed canine caddies, and they said indeed they did. When I got back, I did a bit of research on dog friendly courses in Italy and it turns out that quite a number of courses in Italy do welcome them. My theory is that golf resorts are more likely to welcome pets (eg. Cornwall), and the courses that don't allow them tend to be striving to create an elitist vibe. I think the "country club" set thinks that the more restrictions you place on the members, the more exclusive the place seems.
Walk – Most of our walking was searching for the ball…ON THE FAIRWAY! The entire course was covered with daisy fleabane (see photo below). So scanning the area where your ball landed is a bit of a "Where's Wally" hunting exercise finding your white dot among a sea of white dots. A great opportunity for a practicing your dog's ball sniffing skills.
Wildlife – Only saw a flock of seagulls on one of the fairways (go figure, since we were considerably inland).
Water – Playing at the end of a very wet spring, many of the bunkers became pop-up water hazards (with that tasty muddy water dogs love). The clubhouse gave us free bottles of water, but they were so minerally they really tasted like they too had been drawn from the sand trap puddles.
Criss-crossed by streams, but given the proximity to the thermal springs, I wonder if these are a bit sulphury. The course is free of official water hazards until the end of the back nine where holes 15 through 17 are flanked by great lakes, but they are most inaccessible due to reeds.
Wind Down – The hotel hosting the course has an extensive range of tasty food and, as I mentioned, is very dog friendly. We stopped after the 9th hole for a little snack and some (non-bottled water) liquid refreshment. And if you want, you can book yourself into the thermal springs for a natural soak to ease away the fatigue and stresses of your round.