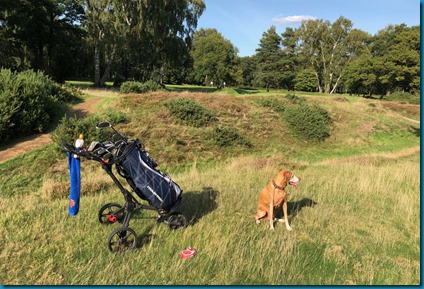 Welcome – Berkhampsted GC is one of the poshest (£70 per round on weekends) parkland courses we have played. Typically, parkland courses are at the lower end of the price and exclusivity spectrums. But the considerable number of dog-walkers passing through does amplify the dog-friendliness vibe.
Walk – Talk about a "ruff" landscape. The terrain is flat mostly (a bit of a climb to the final hole) and there are no bunkers. But more than making up for these concessions is a battery of shrubbery moats (see picture below) and bracken laden ramparts (never flanking, but always crossing the "fairway" at the most inconvenient locations). I think they hired the set designer for The Game of Thrones to plot layout this course. This epic landscape, of course, delighted Grace who enjoyed a big uptick in the number of stray balls to sniff out.
Water – The late summer date meant that the few water hazards around were completely dried up. But the halfway house after the 8th (also near the clubhouse) has a fountain (off for COVID), and is open, serving drinks (and a few other packaged refreshments) and able to fill water bowls or bottles.
Wildlife – Curiously devoid of critters aside from a few loitering crows.
Wind Down – We had booked the top recommendation for area on Doggie Pubs – The Boat. It is a lovely canal-side establishment (but you can't book an outdoor table, it's first come first served). But we weren't feeling well so we wound down with a simple cuppa at home this outing.