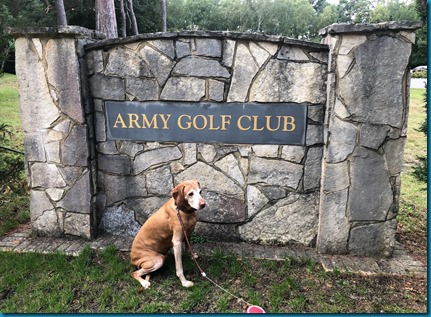 I don't know what you've been told / But on dog golf we've been sold.
I don't know what's been said / But at Army Golf dogs love to tread.
Welcome – We didn't see any of the dogs on the course, but none of the fellow golfers out that day seemed nonplussed by Grace's presence. One of the biggest fears many have about dogs on the course is dreaded distraction (especially from an ill-timed bark). But Army is one of the noisiest courses we have played so I don't think many people these are as concerned with noise. The 15th hole sits right next to the Farnborough Airport (see photo below) with a private jet surreally close giving it a bit of a crazy golf vibe. But in addition to regular jets flying past, there were a battery of helicopters hovering around and even a few drill sergeants barking their own commands nearby.
Walk – A very level battlefield which make the fairly long course (6550 yards) a manageable stroll.
Water – Halfway house at the 9th actually operating (we bought a Bakewell cake a cuppa while Grace enjoyed some water from the dog bowl left out). And the 16th finishes right by the clubhouse if you can't quite squeeze in 18 holes with the dwindling daylight on a twilight round (those that offer is temporarily suspended at the moment). A water gully winds its way through the course flanking or crossing all but 4 holes. It was running and Grace was keen to get in it every time we arrived at it.
Wildlife – The usual commonplace woodland critters – squirrels, rabbits, crows, pigeons – plus a most unexpected memorial to another four-legged friend – equine veterans of the Boer War.
Wind Down – We ventured down the road to the nearby The Swan (found in Doggie Pubs). The evening was pleasant, but less so the outdoor seating which was all paved and nothing but less comfortable picnic tables. So we opted to sit at one of the many tables near the bar. One positive to the coronavirus precautions are that the tables in pubs are now set further apart from each other which provides more floor space for us to set Grace's bed. The Swan included free dog biscuits in a jar on the bar and the server happily provided a bowl of fresh water for Grace. The food focuses on fancy burgers and recently added some Greek dishes as a special (I tried the pork which was different and tasty but not particularly distinctive, just pork belly and potatoes nicely spiced and cooked together in parchment). The highlight was the onion rings that had good sized onion and not too bready batter.