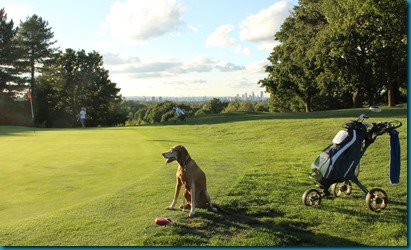 Welcome – Today's dog golfing venture we had planned for a long time since it is in the neighbourhood where our son lives – Dulwich and Sydenham. All of the members we happened upon greeted us warmly (in a socially distant manner) and one in particular noted that he was always pleased to see dogs out with their owners on the course. But there is nothing more welcoming than a fellow golfing dog and we happened upon a most charming one named Alfie (see photo below) who was ever so sweet to Grace and thoroughly enjoy his day out with his human.
Walk – I never thought of southeast London as the mountainous region of the metropolis, but I guess nearby areas such as Tulse Hill, Herne Hill, Streatham Hill, Dog Kennel Hill (!), Brixton Hill, Pollards Hill and Forest Hill should have provided a clue. Several holes did require some quite orthogonal traverses.
Wildlife – This course has more Canadian Geese than a Mountie's Molson beer fest at a moose ranch (see photo below). Geese are to D&S what ponies are to the New Forest. At times it seemed that either we were being stalked by a flock of them, or else each hole had its own resident flock.
Water – In wetter times, the many water hazards – a ratio pretty of much a little pond or stream for every hole – might have provided some handy on course refreshment for Grace, but in the late summer when we played last week, they were all dried out. There is a halfway hut at the 8th hole and though the café is not operating, the toilets are available and have running water. Also, the 7 and 15 pass by the clubhouse if you wanted to make a quick detour in a pinch, but may be difficult in all but the most empty days. The course also has water fountains at the 3rd and 15th, but those are turned off due to COVID protocols.
Wind Down – We chose our wind down spot a little bit further than we had to (in the city there are plenty of pubs all around) albeit just over a mile away by foot – The Archie Parker. Full disclosure, The Archie Parker is a café where our son (one of Grace's favourite humans), Chase, works and he has been a key part of setting it up and building it with his partner, Zoe. It turns out that "Archie Parker" is himself a dog (Zoe's). Now since passed away, but the dog-friendly ethos remains. While it commands top reviews for the area, we were especially drawn to visit by the warm weather since they opened Forest Hill's only café garden out back where we joined Chase, Zoe and our daughter (and her dog Joey) for lovely drinks (next door is their sister venue the Forest Hill Gin Club so G&Ts were the tipple of choice).