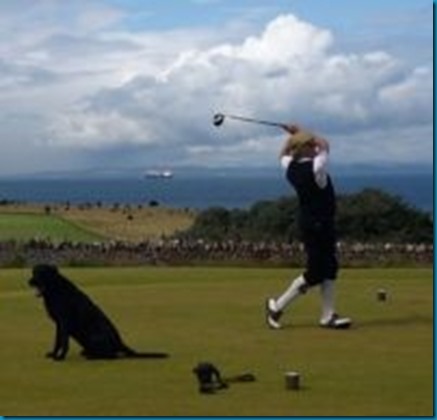 Dog Golf UK announces the 2021 Dog Golf Hall of Fame inductee – Dexter.
Dexter the black lab is a pioneer of dog golfing whose exploits were an initial inspiration for Dog Golf UK. When we were first looking for courses to take Rusty and Grace on to. His person Lorne Smith is editor of the Fine Golf website and newsletter which is a rich source of information on golfing in the GB&I and was the one place I found with information on the dog protocols of various courses. It also featured a number of pieces about golfing with your dog.
Dexter holds the world record for the highest number of different Courses Walked by a Dog – 83. Dog Golf's Grace is up to 72, but since we have golfed most of the dog friendly courses within an hour's drive, and given the uncertainty about 2021 with the pandemic impact (as many courses are limiting visitors with so much pent up demand by members), and given that Grace is going on 13 years old (still healthy and vibrant but get more fatigued on the rounds), Dexter's mark could stand for quite some time.
Dexter's obituary a few years back documented his illustrious career. A few excerpt highlights:
"In early days, taking him on the golf course formed part of his training to be patient and not 'run-in' on squirrels etc. He learnt to wait by the green while the golfers putted out and then moving on to the tee would be seated in the right place to the front off-side. He was seldom interested in the golf game itself but when he saw Lorne coming down the stairs in the morning wearing his golfing plus twos Dexter would not leave his side until he was in the car and on their way in case he was left behind. Hares are the most difficult game to stop a dog from chasing and when out at Royal West Norfolk GC, Dexter put one up near the second tee and belted across the seventeenth fairway, losing it in the salt-marsh. When it is almost de rigueur to have a dog with you at Brancaster and many dogs can be less well-behaved than Dexter, Lorne was not too worried as the players disturbed on the seventeenth fairway were not angry but enjoyed the spectacle of his embarrassment and were at least impressed by Dexter's obedience to return on the whistle."
I contacted Lorne about Dexter's honour, and he shared these added reflections:
"I am honoured for the late Dexter to enter your lovely idea of a golf dog hall of fame. A lot of people still ask after him as he was always with me if dogs were allowed and there are lots of photos on the FineGolf course reviews with him sat in front of somewhere that I wanted to photograph. He did become a bit of a star primarily because of how well behaved he was having been trained as a gundog with whom I competed in trials as well as working him picking-up."