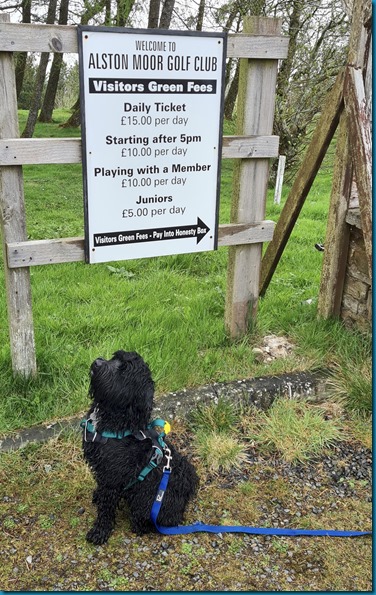 I am sad to report that Grace might just be entering dog golfing retirement as she is suffering from a lame right-rear leg making it very difficult to walk. The debilitation has slowed her down and is combined with some other indications that she is simply becoming a very old girl (14 years old in a few weeks). I am happy to report that one of Dog Golf UK's supporters, Bertie (and his person, Steve Brown, unofficial "northern correspondent") has stepped up to share a number of guest posts from their recent Northumbria golf tour. Thanks Bertie (and Steve)!
Alston Moor Golf Club – The highest golf course in England. Bertie, our Tibetan terrier is two and a half years old. Having a dog changes a lot of what you and where you go on holiday. We have now gone to the same Northumbria cottage three times since we got Bertie. During that time we have also started playing golf, so whereas the three hour drive from Lancashire to the cottage would have been broken up with a quick stroll along Hadrians Wall we now look for golf courses!
So Alston Moor Golf Club fitted that description perfectly. It is a remote course with wonderful views of the North Pennine moors. I had emailed the club secretary who made it clear Bertie would be welcome. It was £15, which is outstanding value.
On arrival we were welcomed by the secretary and as the weather was bad we had the golf course to ourselves. The course has ten greens, nine holes with eighteen tees. The course was in really good condition with some tricky holes. The course also had two defibrillators, it is a steep climb back towards the clubhouse! The clubhouse was closed while we were there so plan to not have access to standard facilities.
We saw deer just yards from the course and bertie had a great time.
What did we learn about dog golfing? If you hook him up to the trolley he pulls it over. And, we need a second lead to attach him to benches etc while we tee off. Eventually we gave in and gave him his own golf ball.
Alston Moor will definitely be visited again on our journeys north.